I had the pleasure of attending this year's gamescom as 320,000 other visitors from more than 100 countries. Visiting the different exhibition halls it started off with the countries bidding for the gaming industry as an attractive business location, including the UK promoting in particular their industry standards to make, play and sell games.
Among the presented upcoming releases that visitors could also try out, the most popular were Tekken 8 (by Bandai Namco Entertainment), Mortal Kombat 1 (by Warner Bros. Games), Armored Core VI: Fires of Rubicorn (by Bandai Namco Entertainment) and Black Myth: Wukong (by Game Science). A noticeable (small) trend was "Retro Gaming", the old Arcade slot machines were exhibited as well as available to play in several halls. Also, there was the "Home of Indies" area where more than 40 independent studios from around the world presented more than 60 games for play, including Solarpunk and Spells & Secrets (both by Rokaplay), Terrascape (by Bitfall Studios) and Serum and Sengoku Dynasty (both by Toplitz Productions).
In terms of "Green Gaming", the German company Itemlab presented its sustainable merchandise and already acquired some notable license partners (Lizenzen | ItemLab). This was contradicted by an entire exhibition hall dedicated to merchandise, including trading cards, toys and collectable figures that was clearly not emphasizing sustainability. So, it remains to be seen if this will become a wider trend, particularly in terms of merchandise. In any event, the pressure is rising with the Green Deal of the EU, including upcoming legislation on Ecodesign for Sustainable Products.
What struck me most was the dominating exhibition of Netflix in one of the entertainment halls. Although Netflix did not promote any games but only some of their successful shows, including Squid Game, Wednesday, Stranger Things and the upcoming movie Rebel Moon by Zack Snyder (release on 22 December 2023), it therewith indicated its aim to take a wider part in the gaming industry. Currently, Netflix has more than 60 mobile games available for subscribers, including some top-class titles such as Into the Breach (by Subset Games), Oxenfree (by Night School Studio) and Terra Nil (by Devolver Digital). It is also in the pipeline that users can play games on their TV with a Netflix Game Controller App. Netflix strong presence on this year's Gamescom featuring prominent Netflix shows has underlined its intention to also roll out games linked to these Netflix shows (see the recent post Netflix pushes into gaming - what does this say about the future of streaming?, Harry Jefferies (dlapiper.com)).
On my way through the different exhibition halls, I came across two interesting panel discussions featuring women as role models for the sport/gaming industry. One was hosted by the "Jugend Forum NRW" (Youth Forum of North Rhine-Westphalia), discussing the future and importance of esports and included Christina "Chrissy" Kras on the panel, a successful German esportswoman in Valorant tournaments, who stressed that the preparation for such tournaments would not include playing the game 8-10 hours a day, but analyzing one's mistakes made in past games. The other discussion was hosted by Deutsche Telekom and SK Gaming and the panel included the professional footballer Andrea Gavrić (from Bundesligaclub 1. FC Köln), esports Casterin Anika "Ryxcales" Wolter (who is casting League of Legends tournaments) and female rapper badmómzjay who discussed how women are met with prejudices in so called male domains and were aiming to counteract stereotypes and clichés and serve as role models for other women to aim to succeed in these male dominated areas (see also Women in esports – Current landscape and ways to enhance their successful participation., Saskia Lais-Jansen, Fabian Schraa (dlapiper.com).
This impression of the current state of play of the gaming industry was rounded off with some take-aways from this year's VGBA (Video Game Bar Association) EuroSummit that I attended with some DLA Piper colleagues from Germany. Legal topics concerning the gaming industry were discussed, including future EU wide regulations and laws to be implemented (Digital Services Act, Digital Markets Act, AI Act, Data Act, Cyber Resilience Act, CSAM Act), an update on youth protection legislation from the UK and Germany, details re. the potential content of the currently negotiated EU Act on AI were presented as well as AI usage in game development and IP protection in the virtual gaming world.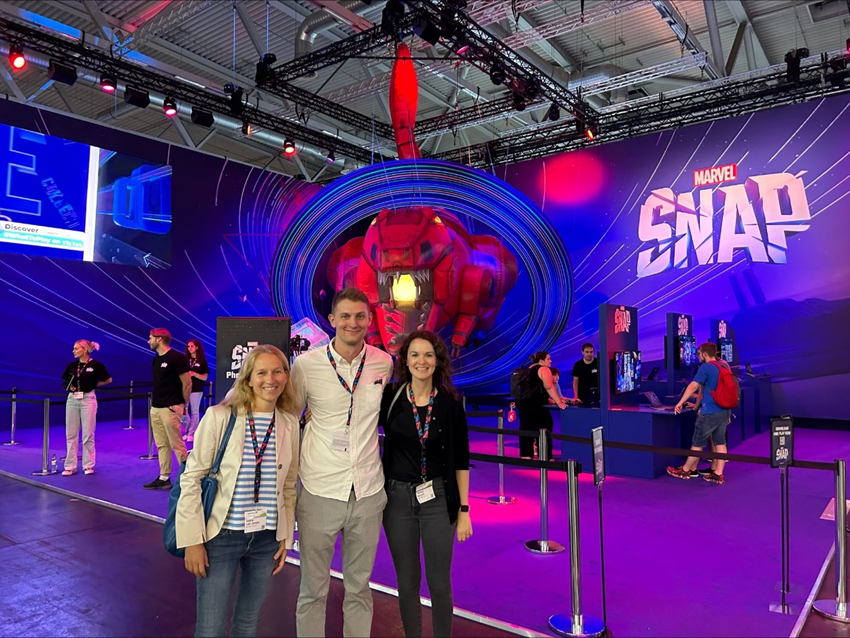 From left: Saskia Lais-Jansen, Philipp Meyer, Tatiana Marzoli, all DLA Piper Germany.
Netflix exhibition
Panel discussion by Jugend Forum NRW on esports; second from left: Jörg Adami, CEO of esports player foundation; third from left: esportswoman Christina "Chrissy" Kras
Panel discussion by Deutsche Telekom and SK Gaming: second from left: Footballer Andrea Gavrić, esports-Caster Anika "Ryxcales" Wolter, Rapper badmómzjay